1320MINI Team up with CATCAMS
- 27 July 2011
A while ago, Cat Cams got in touch and asked if we would be interested in testing some camshafts for the R56 MINI. Of course we agreed but felt it would be nice to come up with a new R53 camshaft first, as we have always felt there was more left on the table.
The first two cams on their list, which they already produce for the R53, turned up for evaluation, as previously mentioned on our blog we tested the 4 cams on the same day in April 2011.
All the dyno results and logs were sent back to the engineers at Cat Cams who then came up with this latest design.
So here are the results for the new Cat Cam for the R53:
All the testing was carried out on the old David B car and the specs are as follows:
550cc Injectors
Bytronik Tune
GP Intercooler
15% KMTpulley
JCM catback
1302469 CatCam
Stock S cylinder head
Stock exhaust manifold
Dave F Airbox
We were amazed at the results, and feel confident you will be as well.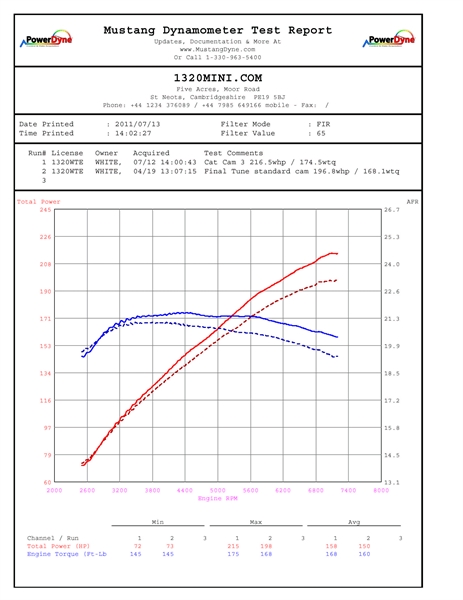 216WHP/174.5WTQ
Results are both tuned to the same fuelling with no ignition timing adjustments.
As you can see this camshaft just keeps going and just doesn't seem to want to drop off so our next mod will be some ARP rod bolts and see if there is anything left beyond 7500
7550rpm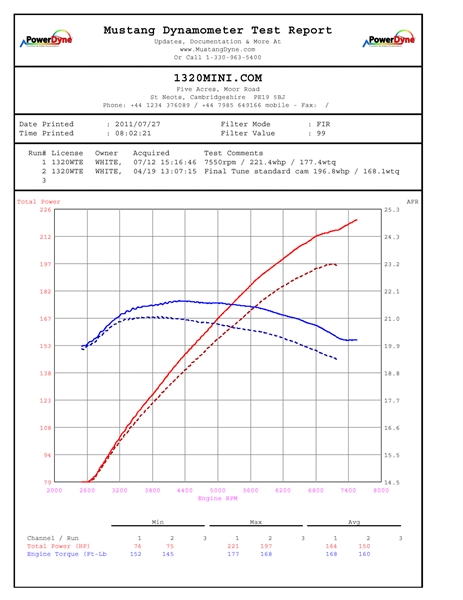 221 whp with 177wtq all at the wheels.
As you can imagine we are really excited about this latest development and association with Cat Cams and can't wait for the R56 cams to turn up to see the difference they can make. Of course if we can convince them to make some R53 Supercharged / Nitrous cams and R53 Turbo / Nitrous cams even better! The future will be bright; the future will be Cat Cams.
Prices are:
£312 Including VAT Supplied and Delivered
£396 Including VAT Supplied and Fitted