2011 Fast Car Show Report, Santa Pod
- 27 March 2011
We should christen ourselves Last Minute Racing when it comes to racing our car, as always customers cars are always a priority and ours comes last......Paul spent most of Friday night / Sat night chasing am electrical problem, part of the problem seemed to be related to the power steering pump. Unfortunatley there was still some other electrical issues which we believe is the main fuse box, we elected to run without nitrous this weekend. First job after the Santa Pod breakfast was for Scotty to redo the tracking after raising the installed height and altering the camber for the drag slicks from our track day settings.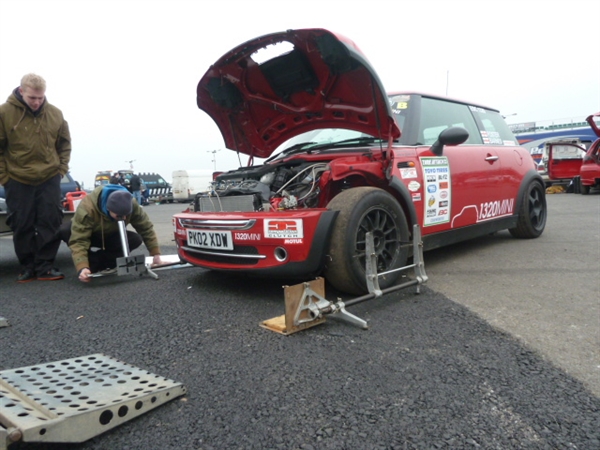 With the launch control set on the 1320 plug &play stand alone ECU at 6000 our first run was 13.6 @ 100, Thomas shifted from 3rd to 4th just before the finishing line, he was actually paying attention and reacting to his MSD shift light with a 7000 rpm chip in it, kindly borrowed from Santa Pods 2 seater dragster, its not what you know but who :)
We elected to put the tyre pressures up on the 2nd run of our 3 year old slicks and hope this would promote some wheelspin with the new launch control rpm set at 7000 :) this in theory would improve our 60ft time, this run below netted us a new personal best mph with a stock head and a new personal best ET with the early gearbox ......though it says Paul Webster, Thomas Barnes was driving as he's about 75lbs lighter than Paul...............so in theory he's .075 quicker, note Thomas reaction time.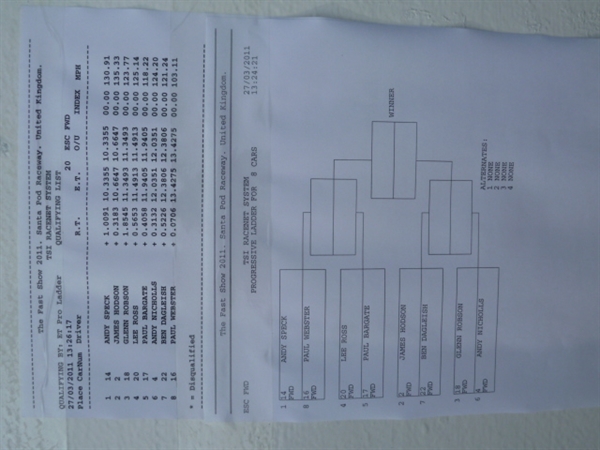 On our 3rd run of the day we decided to do no burnout which in theory might help the slicks spin...........unfortunatley the unbreakable custom made (wait 8months for them) driveshafts twisted and snapped, at least there was about 10,000 witness that Thomas broke the MINI this time and not Paul :)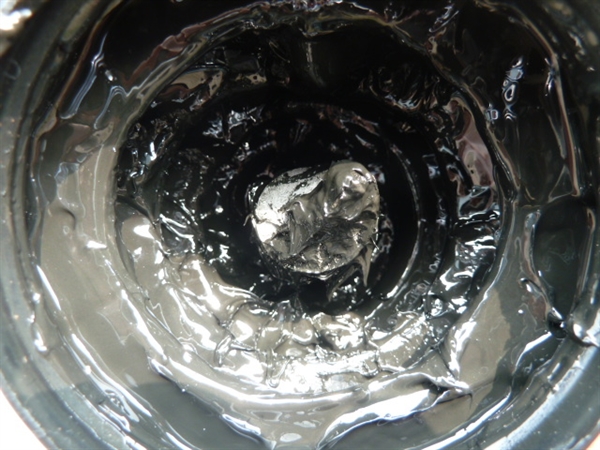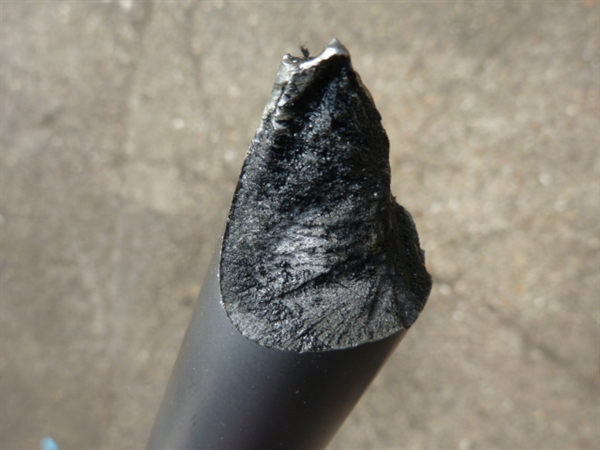 Talking of New Personal Best, Sam who had been on our dyno, see previous blog run a NPB of
As you can see below the Tigra has a new colour for 2011 and has a identity crisis in the sticker department :) Thanks for the support guys.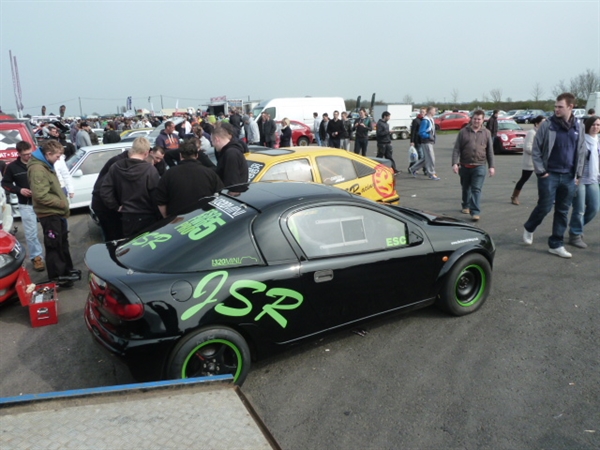 Unfortunatley Jay with the Astra didn't have such a good day by breaking a pair of rockers then having 2 valves drop, but he's already planning on a rebuild and another dyno session