Old Red

2005

We purchased Old Red from HBC Salvage auctions in Peterlee on 13.04.05 as a fired damaged Mini One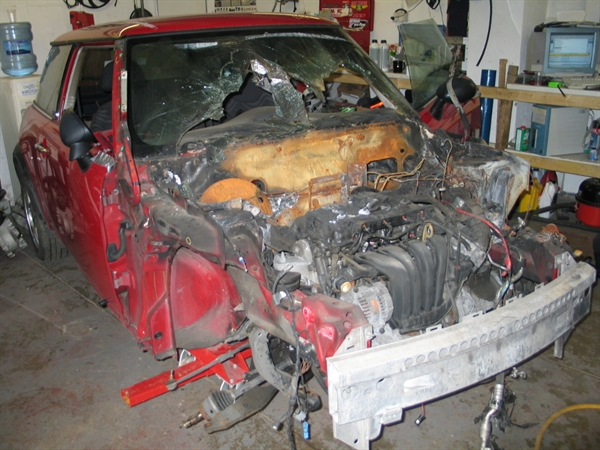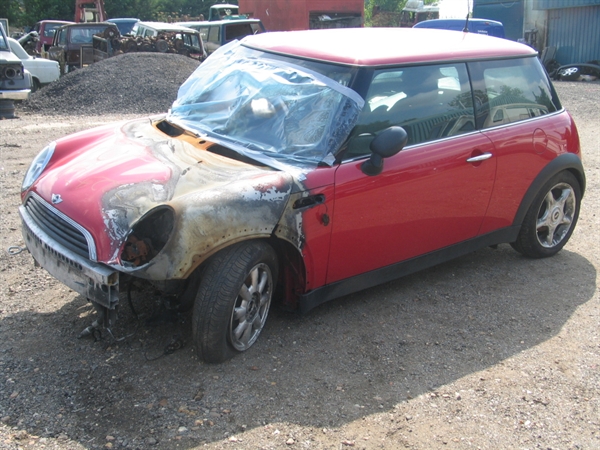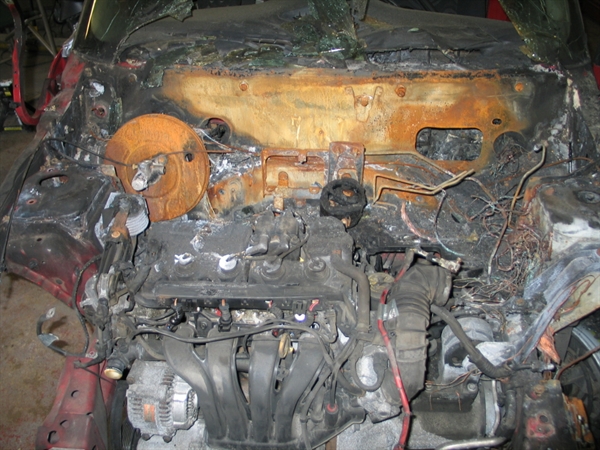 After the 05 Summer Nationals at Santa Pod, we decided we should enter Old Red for the 05 Euro Finals, this gave Thomas 2 months to get it done. After a great deal of time and effort from Thomas, Old Red turned into what you see below, as you can see we left the battery where it should be in a MINI One / Cooper. Thomas also fitted a M7 flywheel, Helix clutch and a Quaife diff, tyres were 195 50 BFG drag radials, also you will note that there was no nitrous fitted, we made our debut at the 2005 Euro Finals in Sporsman Et running a staggering best of 15.497 @ 86.22 with a 2.11 60ft, it turned out we were in limp mode.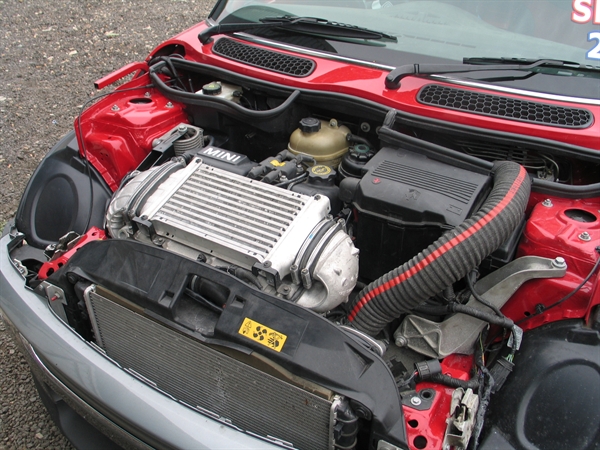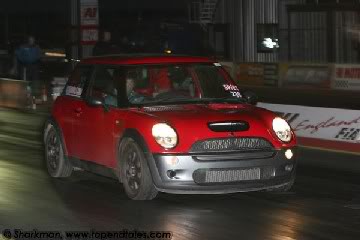 For the 2005 National Finals a nitrous kit was fitted to the standard engine, we ran 1 non nitrous pass of 14.77 @ 93.16 which showed we had cured the limp mode problem, then spent the rest of the weekend with the nitrous on, this ended in a best run of 13.385 @ 99.76. As you can see below the car had 1 x seat and no interior, Old Red and Paul Webster were a lot slimmer in those days weighing in at 2468lbs / 1122kg .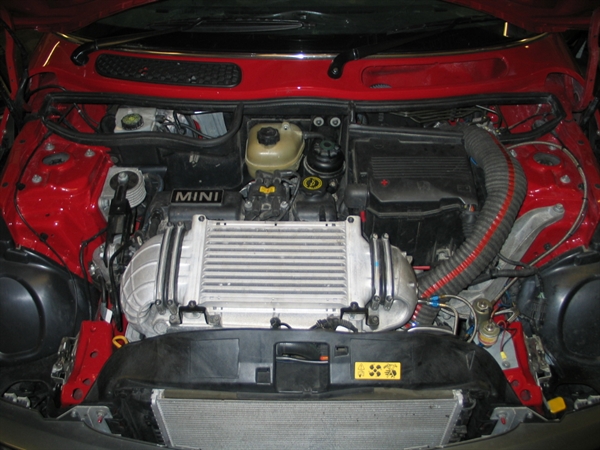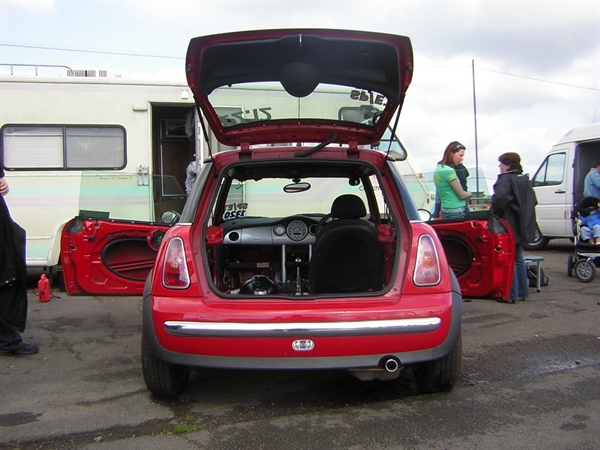 ---

2006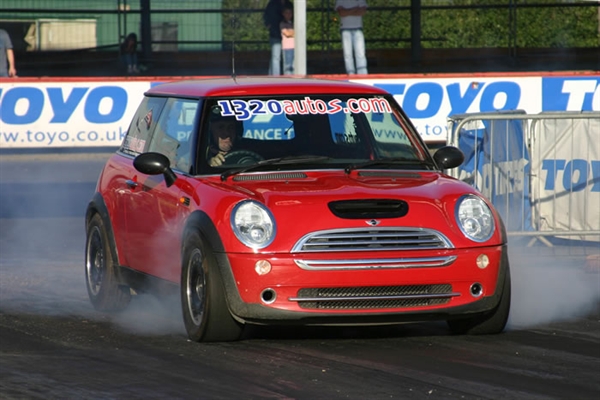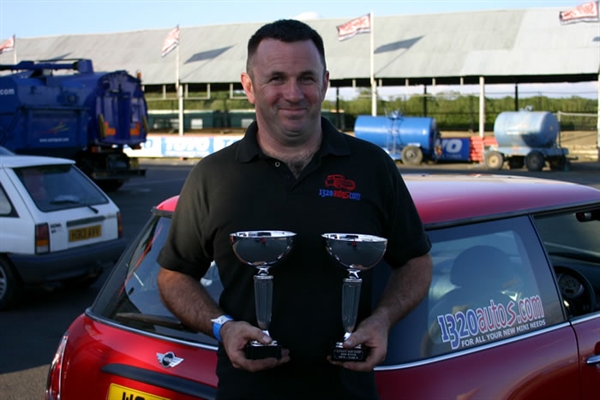 In 2006 we added some Renault alloy wheels and Mickey Thompson 24 x 8.5 slicks, we got plenty of runs in throughout the season and managed a best of a 12.165 @111.68 with a 1.726 60ft , we also managed to replace the Cooper S bumper with a facelift Cooper one in red. We also won the Mini Showdown at Shakespear County Raceway and inaugural Ultimate BMW Show at Santa Pod.

Mini Showdown Cooper S class 12.571 @ 111.92 (record)
BMW Show Class A 4 cyl 12.635 @ 110.28
BMW Show Class X Slicks 12.509 @ 113.64



---

2007

Because we were getting nearer running that elusive 11 sec time we asked long time friend racer Steve Green to put a chrome moly cage in Old Red at the start of 2007, this cage passed certification and we can now legally run as fast as 8.50.................in our dreams.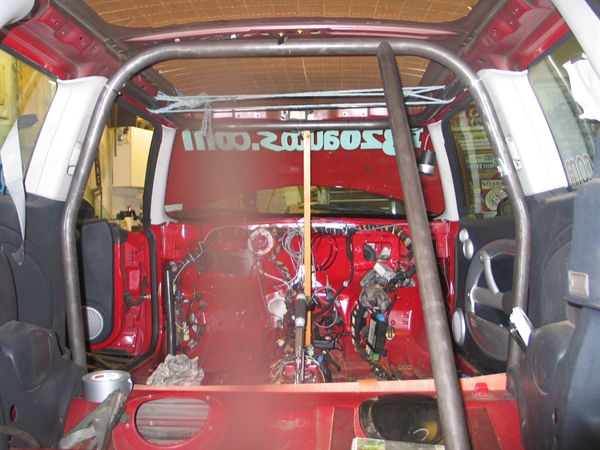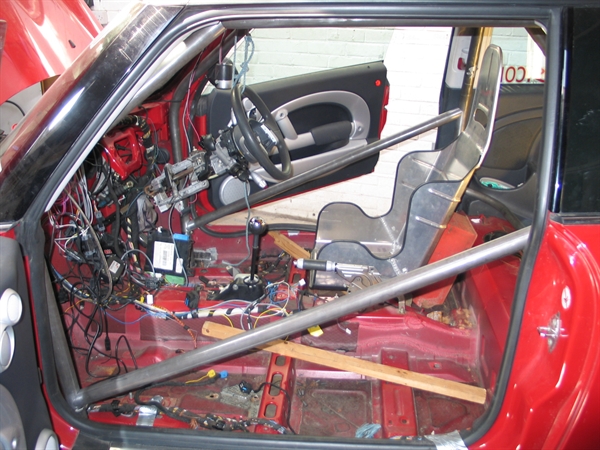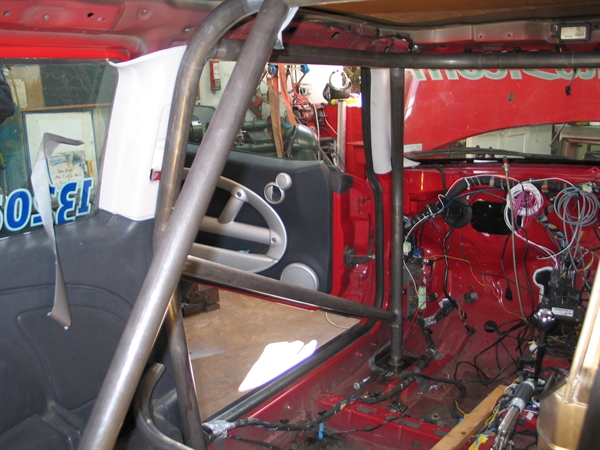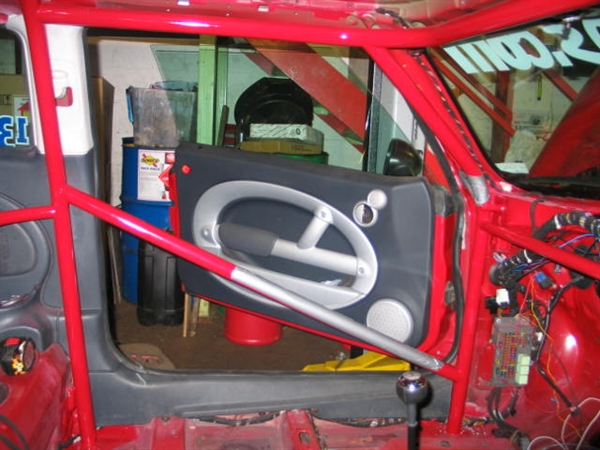 We also fitted JE pistons and a ABF stage 2 head and a 15% pulley, the trim and carpet was put back in and we added two Kirky ally seats, the drivers seat has the luxury of 10mm of foam padding.

At the 2007 Easter meet we run a best non nitrous pass of 13.095 @ 104.20 with a 1.879 60ft, our weight had gone up to 2625lb 1193kg at this point, in August we went to the British Mini Showdown at Shakespear County Raceway where we won the Cooper S class.

In September at the Euro Finals at Santa Pod we finally got that 11 sec ticket with a 1.7991 60ft and a 11.7722 @ 115.93, also in this month we won the Ultimate BMW Show non road legal class on slicks, unfortunatley we torched the cylinder head & block at about the 1000ft mark then coasted over the line to a 12.365 @107.63

Mini Showdown Class F New MINI Cooper S 13.449 @ 104.65
BMW Show Class X Slicks 12.365 @ 107.63
NPB Euro Finals Santa Pod 11.772 @ 115.93


---

2008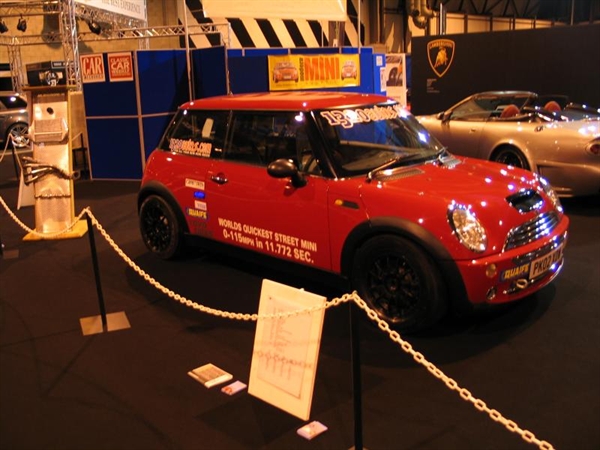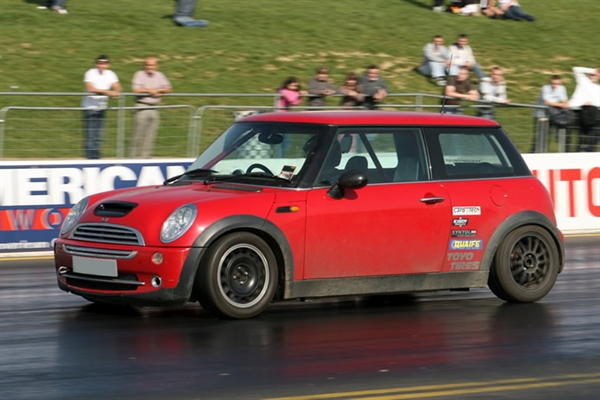 In 2008 we started the year with the car on the Kelsley Publications stand representing Modern MINI magazine in the inaugel Pistonheads show which is part of the Autosport International Show.

Due to a lack of business & funds we only competed at the British Mini Showdown at Shakespear County Raceway where we won the Cooper S class with a stock cylinder head and a no nitrous pass, In August we were invited to the first Mini In The Park at Santa Pod as an exhibition vehicle, so thus we didn't compete for any trophies.

Our next event was the Ultimate BMW Show at Santa Pod where we put the nitrous on with the stock cylinder head and ran a 12.7469 @ 112.70 on the drag radials to win the 4 cylinder class.

British Mini Showdown Class F New MINI Cooper S 13.651 @ 104.33
BMW Show Class X Slicks 12.746 @ 112.70



---

2009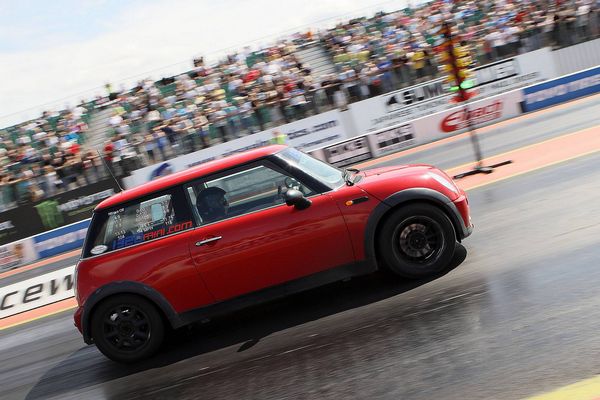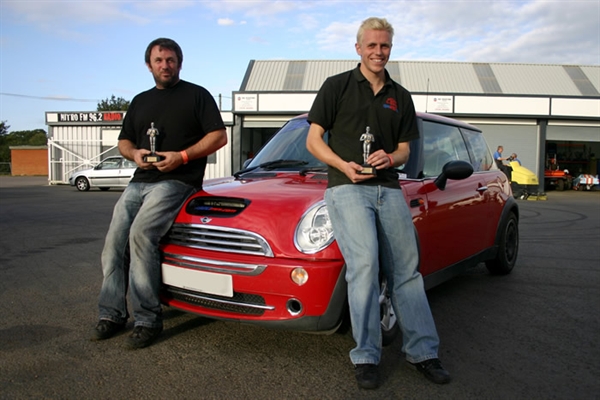 2009 was a very busy year with us entering the www.eurosportcompact.co.uk series we managed the following;

Euro Sport Compact @ Santa Pod

ESC Rnd 1 11.719 @ 116.84 on Toyo 25 x 9 slicks
ESC Rnd 2 12.169 @ 117.88 on Mickey Thompson 235 60 - 15 ET Street
ESC Rnd 3 13.118 @ 116.13 on Mickey Thompson 235 60 - 15 ET Street............unfortunatley due to the previous 2 weeks of rain there was a lot of mud taken on the track from the RWYB crowd.

Mini In The Park @ Santa Pod

Emma Gibson one of 1320 original employees ran the quickest non nitrous time of 13.358 @ 100.76, while Paul Webster run a 11.6415 @ 118.67 this was acheived with a 11% pulley

Euro Finals @ Santa Pod

This had to be one of our best weekends ever running a string of New Personal Best 11.3383, 11.2234. 11.162, 11.288. 11.2009 so now our best ever run is a 11.162 @ 123.10 with a 1.7212 60ft

Ultimate BMW Show @ Santa Pod

As you can see by the above pic we won Class A 4 cyl class & Class X the slick class

Paul Webster Class A 4 cyl 12.669 @ 114.78 on MT Street tyres
Thomas Barnes Class X Slicks 11.490 @ 121.22 on Toyp 25 x 9 slicks


---

2010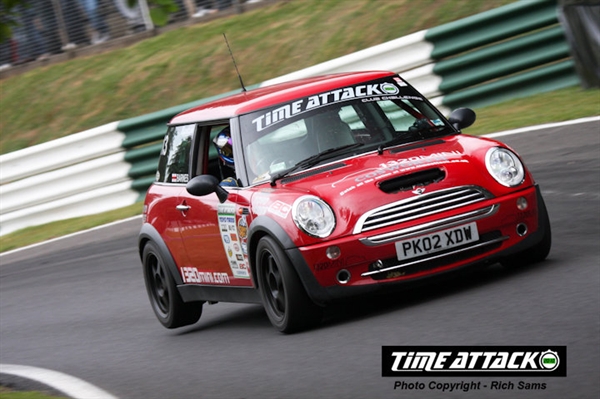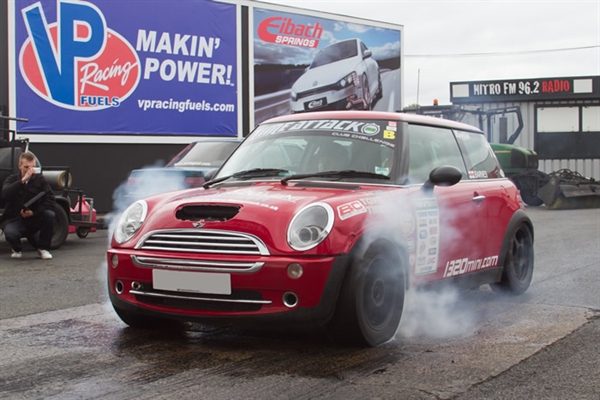 It was so busy this year that Old Red got left and wasn't used in anger until the 3rd round of Time Attack at Brands Hatch driven by Thomas..........yes you did read that right, we were going around corners in Old Red. We actually purchased some new Rota Slipstream wheels fronts are 16 x 8 with 225 45 - 16 & rears are 16 x 7 with 195 50 16. We managed to get one MINI drag event in as well, we also attended a few RWYB's in October testing different setups for 2011

Time Attack
Rnd 3 Brands Hatch Thomas Barnes 58.448 (ideal 57.883)
Rnd 4 Cadwell Park Adam Foster 1.41.121
Rnd 5 Snetterton Adam Foster 1.20.599


Ultimate BMW Show
Class F BMW MINI Thomas Barnes 12.6288 @ 113.36 (Toyo 888)