Thomas Barnes
Workshop Manager / Tuner / Mechanic / Bodywork / Fabricator / Welder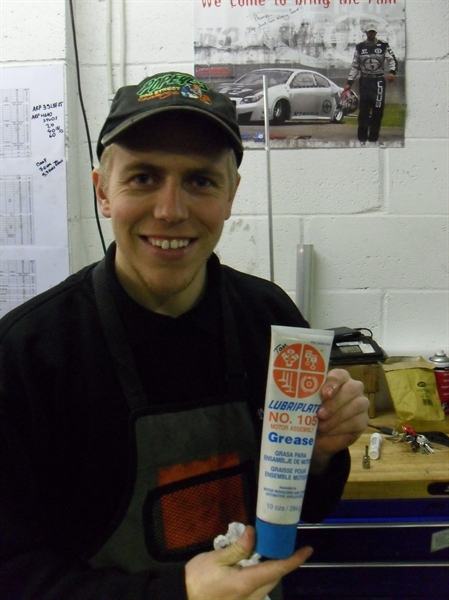 Thomas was born into an American V8 petrol-head family. Since he was able to walk he's had a spanner in his hand and helped his dad as much as he could with the many car projects that the family have undertaken.
Thomas has always been a passionate drag racer. He started his drag racing career with Paul, crewing for Steve Green on his infamous multi championship winning Mk1 Cortina, this era influenced the purchase of his own Mk 1 Cortina on his 19th birthday. At the grand old age of 15 Thomas began helping Steve Pateman, in the Custom Car Street Eliminator, where he began tuning in the old school fashion; the results were the team won championships and set records as the fastest street car in the UK between 1999-2004.
Thomas moved to becoming one of the ultimate in crew members having been invited to join a prestigious Pro Mod crew; the ultimate door-slammer class.  Crewing for Andy Robinson and his 53 Studerbaker the team won the British championship from 2004-10.
As well as the crewing for other people, with 'Old Red' in his possession Thomas has also 'slummed-it', working on a mere 11 second street car, a mile away from the 6 sec vehicles he has been used to! However, 'Old Red' has proved to be a faithful and loyal development car, play thing, tuning mule having undertaken 100s of ¼ mile passes in the name of development and fun, all under Thomas' critical eye. However, in 2010 Thomas and Red were introduced to corners where Thomas went on his second ever track-day at the 3rd round of the 2010 season of Time Attack, at Brands Hatch.  Here a new love was born, and the broadening of his horizons and interest in motorsport with corners began – we look forward to seeing this new passion evolve.
 Thomas has not only been defined by his many years as volunteer crew for championship winning teams, he has also had to fit in a paying automotive career, which he began as a body-shop apprentice at Arlington Mercedes, Bedford, where he learnt his body repair skills between 1998 -2004.
In mid 2004 Thomas started working for 1320, having been coaxed there by his godfather, Paul, and they started repairing and dismantling various vehicles, until the defining day that Paul had a request from his Mother in Law to find a suitable salvage MINI. Thomas and Paul repaired the MINI, and those infamous words were muttered by them both, "I really like working on these MINIs", the rest is history…
 Sadly, in 2008 times were lean and due to a lack of work coming through the door Thomas did the noble thing of looking for employment elsewhere, he ending up working at Elms MINI in the parts department for a year which turned out to be a fated move as this is where he met his better half Tabby.
At the start of 2009 Thomas returned to his spiritual home, 1320. Fortunately, work had picked up and we were able to offer Thomas full time employment again.  The reality of this was clear - Thomas has always and will always be the backbone of 1320. As the company has grown and flourished so has Thomas, moving from a fledgling in the company to being the driving force behind innovations and customer service. In fact he has been instrumental in creating the 1320 brand that we all know and love.
  The future is looking good for 1320 and Thomas, with more tuning options available and a lot more R&D on the cards. Of course Thomas's passions for turbochargers will be yet another asset he brings to 1320 as 1320's R56 has joined the fleet; turbocharging R53s will be a another big focus of the year, if we can find the time! In light of Thomas being head hunted for an exciting new Pro Mod Drag Racing team it looks like this year will be the year of the turbo.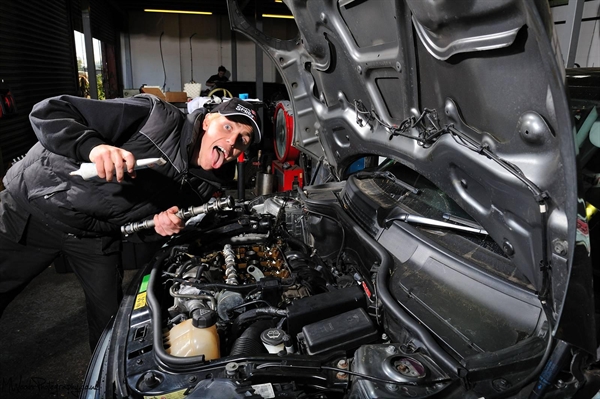 ---
Scott Barnes
Mechanic / Fabricator / Welder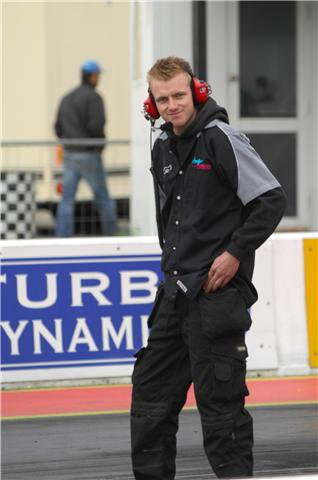 Like his older brother, Scott was born into an American V8 petrol-head family. Since he was able to walk he's had a spanner in his hand and helped his dad as much as he could with the many car projects that the family have undertaken.
 When Scott reached the grand old age of 13 he started helping out Karl Witham at Duck's Cross Salvage, at weekends and school holidays. When Scott left school he naturally continued working for Karl.
 Duck's Cross Salvage specialises in 4X4, mainly Landrover and Landcruisers and Scott helped in complete chassis swops, engine rebuilds, gearbox and axle rebuilds. Obviously, this led to the ultimate build of all, Karl's personal toy of a Landcruiser shortened chassis and running gear but with a Landrover 90 body on it. Scott also re-bulit his Series 111 Landrover 90 for a bit of off-roading fun.
 When Scott and Karl weren't off-roading at weekends, Scott crewed for a dragster team. Between 2002-2008, in true petrolhead style, he would be at Santa Pod or Shakespeare County Raceway crewing at major meetings on Sid & Crunches Super Pro ET big block 7 sec Chevy dragster. Eventually, his commitment was rewarded and Scott got his go in the dragster in 2008. On his 5th pass at a Pro test and tune RWYB he run a 1.12 60ft  8.43@156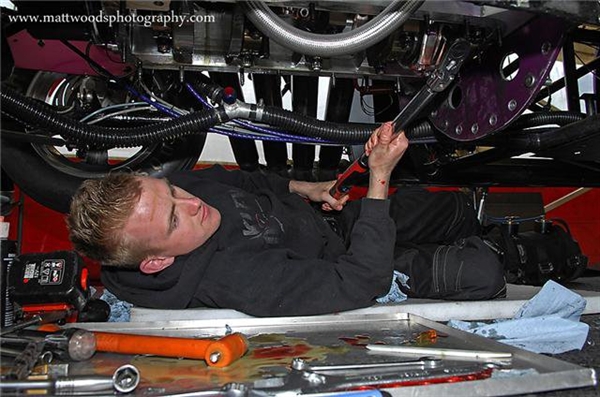 In 2008/9 Scott left Duck's Cross Salvage to work for long time friend, Danny Bates of Adrenalin Race Cars. Scott continued what he learnt from Karl and fabricated roll cages, interiors and suspension parts for a variety of cars.
 In 2010 Scott joined his brother at 1320. After a few short weeks it was like he had always been there and the dynamic partnership of the Barnes Brothers has grown in strength.
 Under Tom's tutelage it didn't take Scott long to know a MINI inside out. His first job was to build Old Red's engine for the 2010 season and the rest is really history...
 In 2010 Scott, inseparable from his big brother, joined the Andy Robinson Pro Mod Team and became a crew member for the 53 Studebaker, travelling around Europe. Scott will continue in his role in the team for 2011.
 Scott has quickly developed a passion for driving, working on and racing MINI's.  His enviable talents, eye for detail, fabrication skills are all second to none. Scott is also blessed with a wicked sense of humour and admirable work ethic. The boy has talent and is an invaluable member of the team; long may it continue.
---
Jack Pirondini
Mechanic / Electrical
Jack started with 1320 in February 2011, after moving from Leeds to join the team. 
His motor career started as an apprentice for Easy Travel which was a Taxi repair firm in Leeds, he did this whilst attending college where he achieved NVQ Level 2 in Motor Vehicle Service & Repair.  He was there a year before relocating to Cambridgeshire. 
Previous jobs included working as a waiter, a barman and in catering, which all helped develop his enthusiastic approach to customer service.
Jack's passion for MINI's was already established with his MINI One which he converted to a Cooper S, by buying a crash damaged Cooper S from eBay to use as a donor car, this was stripped and used to full effect to transform the MINI One.
MINI Torque was the link to his joining 1320.  He replied to a post by Paul was looking for an additional member to the team thus turning his passion into his dream job!!!
The rest as they say is history.